Back to Search Results
Mr. Michael Johnston
, B.A.H., LL.B.
Name:

Michael Johnston

Firm:

Shore Davis

Address:

800-200 Elgin St.
Ottawa, Ontario, K2P1L5


Phone:

6132337747

Website:

Geographical Limits:

Ontario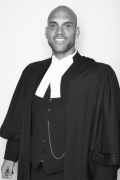 Navigating the criminal justice system can be a nerve-wracking ordeal. Michael will stand unflinchingly by your side through any stage of the process, from investigation to appeal. Michael has experience successfully defending against almost every type of criminal charge in the Criminal Code, the Controlled Drugs and Substances Act, and other related legislation. He has also represented individuals in regulatory investigations and prosecutions, from the Ontario Highway Traffic Act to the Canadian Lobbying Act.

Michael works diligently to ensure that his clients obtain favourable results at the bail stage, in judge-alone or judge-and-jury trials, through guilty pleas and sentencing, and on appeal.

No one should deal with the criminal justice system without proper representation and protection. If you or someone you know is facing charges, please contact Michael for a free consultation.
Criminal Law
Appeals

Domestic Violence

Drug Offences

Juvenile Offences

Parole

Driving Offences

Fraud / Theft Offences
Discounted rates:

$120 - $170

Detailed description of fees:
---